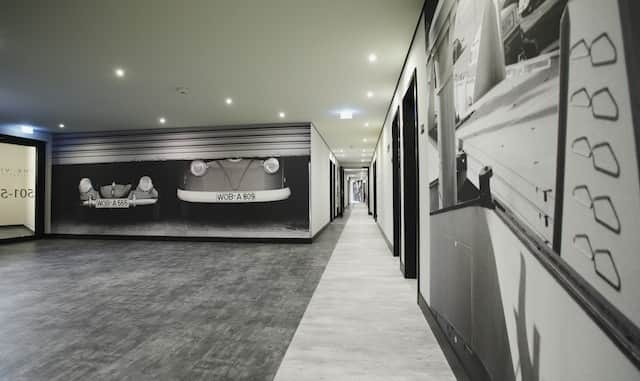 Sustainable Flexible Flooring at the Innside Wolfsburg Hotel
The world's leading trade fair for carpets and floor coverings, DOMOTEX 2016, will be showcasing the latest developments and applications in the area of flooring from 16 to 19 January 2016. Once again, the Innovations@DOMOTEX competition is now calling for exhibitors to enter their latest innovative products. The following success story shows how the flexible Purline by wineo® flooring, which was chosen for Innovations@DOMOTEX 2014, has become a space-defining element at the Innside Wolfsburg Design Hotel.
Opened in 2014, the Innside Wolfsburg Hotel is located in direct proximity to the Volkswagen production plant and the Autostadt. The hotel was designed by German-Russian architect Sergei Tchoban and his nps tchoban studio; the interior design was developed by studio Jonasplan. The building's ground floor with lounge area and café is conceived as a spacious glazed hall. More than 200 rooms, a spa, a conference area and a ballroom are located on the upper floors.
For the flooring, the interior designers selected the bio-polyurethane Purline by wineo® design, a Windmöller Flooring Products WFP GmbH brand. Instead of petrochemical polyols, this flooring uses bio-based polyols made from canola and castor oils, with chalk as filler. Purline is free of chlorine and plasticisers, of solvents and of any other harmful substances. The material is odourless, easy to clean and extremely durable (utilisation class 43). At the Innside Wolfsburg Hotel, Purline is used over a total surface of about 1,800 sqm, featuring a 1000 x 500 mm plank design.
To emphasise the hotel's connection with Wolfsburg, Jonasplan opted for floor-to-ceiling black and white photos from the history of the Volkswagen factory to decorate the walls in the circulation areas. Matching the wall design, the floors are covered in grey shades from the Purline Stone collection. "The flowing transition between the different materials marks out the different functional areas and subtly guides the visitor through the building", says Dirk Jonas from Jonasplan. According to the designer "the reduced visual design conveys a feeling of calm and security".
Purline by Windmöller Flooring Products WFP was chosen for Innovations@DOMOTEX 2014 in the category of flexible flooring. The company, based in Augustdorf near Detmold, Germany, will again be an exhibitor at DOMOTEX 2016.
These types of 'organic flooring' made of new materials are just one example of the many options in contemporary floor coverings from which architects and interior designers can choose today. At DOMOTEX 2016, designers and creatives working in architecture, interior design and design will find a wealth of inspiration for customised applications in the area of flooring. DOMOTEX has long established itself as the world's most important flooring exhibition: the place where architects and designers meet and update themselves on the latest trends and innovations.