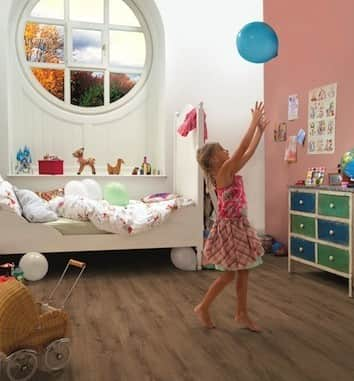 With its new cork flooring collection for specialist distributors, EGGER is bringing authenticity and naturalness to the market in a new dimension. On the outside, it appears in twelve new decors and the new Large floor board format. On the inside, the flooring meets the highest ecological standards.
The EGGER cork+ flooring collection combines the advantages of cork as a natural product with the functionality of laminate flooring. With cork+ technology, the decor and surface are applied to the special cork material using a direct printing process. This results in floor boards with trendy wood effects and a perfectly fitting designer surface, visually appearing like laminate flooring. As Michael Gerbl, Head of Marketing & PM EGGER Retail Products explains, the guiding principle in the development of the twelve new decors "quite clearly was authenticity": "
In setting the new direction for the cork+ distributor collection, it was very important for us to work with authentic materials and present them to their best advantage. In the past, customers had to choose between the favourable characteristics of cork flooring and appealing wood effects. Now we are demonstrating that cork can look like wood too, while offering the same functionality as laminate flooring
."
In regards to naturalness in the design, the EGGER cork+ flooring collection presents twelve newly developed decors and a special highlight: the Large floor board format (1,292 x 245 mm (50.87" x 9.65")). Because the floor boards are wider, rooms appear visually larger with a free, open atmosphere. As Design Manager Janina Keller explains, the decors themselves unfold a much more powerful effect on the wider floor board: "The decors in the collection are reproductions based as closely as possible on nature, with the most authentic design. With the Large floor board format, we are able to suggest to the viewer that the floor is actually made of genuine wood."
Based on the successful Arlington Oak decor from the Floorline collection, it is found in the EGGER cork+ collection in the following colour variations: natural, chalk and cognac. The collection also features two additional oak designs in the Classic floor board format (1,292 x 193 mm (50.87" x 7.60")). Odenwald Oak can be viewed as one of the basics in the collection. Thanks to the narrower format and its familiar, natural appearance with a somewhat lively image, it work well in smaller rooms too. While the rough cut, somewhat darker Madalena Oak has the same features, it also creates a striking accent. In addition to the trendy decors with the look of oak, the EGGER cork+ flooring collection features other authentic types of wood. Ettal Larch in the Large format exhibits a soft, natural hue. The fiery Weinsberg Ash has a warm, appealing look in the thermo hue.
In the EGGER cork+ flooring collection, it is carried out in Rustic with brushed wood effects. Touch has generally become more important and today's flooring has to feel good as well. As Michael Gerbl explains, this is of crucial importance for the product group: "A user who make a conscious decision in favour of cork flooring does not just want to walk on it in sneakers. Perhaps the flooring will be installed in the bedroom where you walk barefoot in the morning, perhaps in the nursery where you play with your children. Therefore the topic of touch is even more important with cork flooring."