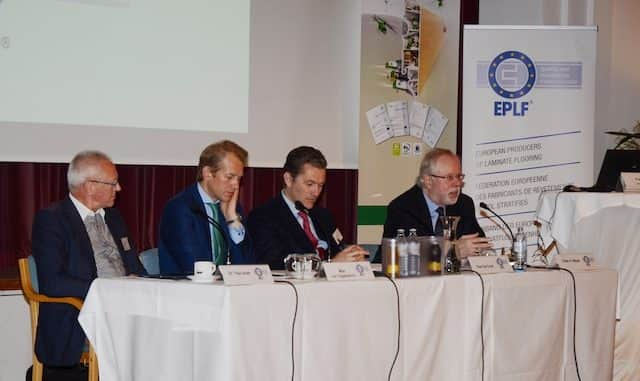 On 8 and 9 May, over 60 participants gathered for the Annual General Meeting of the EPLF held in the Salzkammergut region of Austria at the invitation of extraordinary member company Neuhofer Holz GmbH (Zell am Moos, Austria). In the new EPLF Innovation Manifesto, the Association has set down its strategy for a successful future in laminate flooring. Four companies delivered keynote presentations – Hymmen, Interprint, Selit Dämmtechnik and Surteco/Dakor Melamin – giving EPLF networkers a comprehensive package of information on important industry topics.
After a day of detailed working sessions for the expert 'Technical' and 'Markets & Image' Working Groups, the second day of the meeting was set against the background of the meeting format Laminate 2020 – Forum of Innovations, which the EPLF launched for its members last year with great success. Four specialist presentations were on the agenda at the meeting in Mondsee: Heike Schlosser of Surteco Decor GmbH and Ralf Lerner of Dakor Melamin Imprägnierungen GmbH gave a presentation entitled: "One in Motion – Trends and Applications"; Carsten Brinkmeyer of Hymmen GmbH Maschinen- und Anlagenbau presented "Floors with Digital Visual and Haptic Effects – the Laminate Flooring of the Future? – An Account of the Current State of Technology in the Production of Digital Surfaces Combined with Digital, Synchronous Textures"; Salvatore Figliuzzi of Interprint GmbH presented information on: "Transform – a Changing Society – How does This Influence Interiors and Flooring?"; and Friedrich Meyknecht of Selit Dämmtechnik GmbH spoke on "The new generation of laminate underlays – Twinfoam Technology Optimizes Opposing Product Properties".
Acting as deputy for EPLF President Ludger Schindler who was unable to attend due to illness, Vice-President Paul de Cock summarised the concept of the Laminate 2020 forum: "We live in a world that works endlessly on new developments. This is why it is good for our members to exchange views on trends and essential changes at an early stage, and have direct access to the know-how and pool of ideas of all supporting members of the world's largest association of laminate manufacturers. Laminate 2020 is not about general presentations on technological developments, it is about specific proposals and lively exchanges between ordinary and extraordinary members within the EPLF. It is about the future of laminate."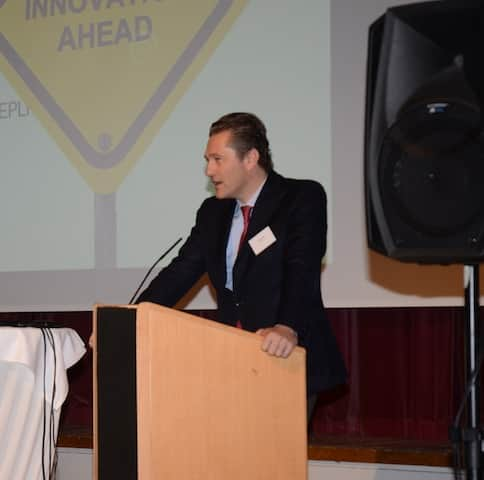 Standing in for Convenor Eberhard Herrmann, Dr Theo Smet reported on ongoing activities being carried by the EPLF Technical Working Group. The EU-sponsored "Chair Castor Test" project is underway and initial tests are already being carried out. The test procedure used so far is to be modernised as it is 50 years old and totally outdated. In collaboration with the IHD (Institute for Wood Technology) in Dresden, a test procedure will be developed by August 2018 that will include a testing device suitable for use on floor coverings laid as floating installations with various locking systems, as well as on glued floor coverings, whilst taking underlay materials into account as a general principle.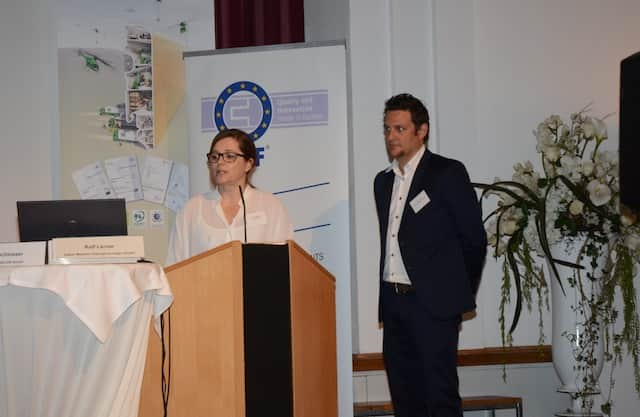 The EPLF is currently achieving success with its professional involvement in the new EU Ecolabel for furniture and floor coverings made from wood, cork or bamboo; the new version came into effect at the end of January 2017. The EU Ecolabel is recognised as an EU environmental label in all European Union member states and also in Norway, Liechtenstein and Iceland, and therefore gives a clear signal on an international level to end customers who wish to contribute to the reduction of environmental pollution by buying eco-friendly products. European quality laminate flooring complies broadly with the criteria for this product label, which is why the high-end laminates made by EPLF member companies will be able to apply for the EU Ecolabel in the future.
Amongst other things, it was certain tendencies towards substitution in the Western European core market that prompted the EPLF Executive Committee to launch a special Association initiative last year – a new strategy paper formulating the self-perception of the Association and defining the guiding principles for future activities. The EPLF Innovation Manifesto was officially presented to and adopted by members in Mondsee.
These ten propositions form the basis of the EPLF Innovation Manifesto:
European laminate producers have experience.
European laminate producers have courage.
European laminate producers are close to their markets.
European laminate producers foster competition.
European laminate producers support qualification.
European laminate producers promote dialogue.
European laminate producers guarantee standards.
European laminate producers create market presence.
European laminate producers have team spirit.
European laminate producers guarantee sustainability.
Each of these is listed and explained in detail in the document, which is due to be introduced to the public during the course of the year.
The EPLF Working Groups will meet for more sessions throughout the year. The next major Association meeting will be at the invitation of extraordinary member Välinge Innovation Sweden and will take place on 16 and 17 May 2018 in Viken, Sweden.