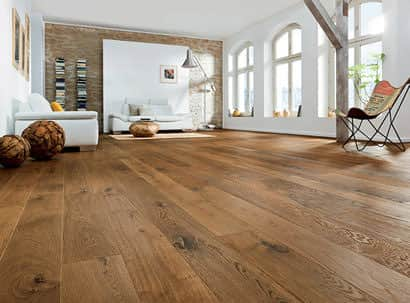 Since 1980 Habo produces traditional solid parquet. In 2011 the production of two-layer parquet was also launched. The love for wood and an extensive awareness of quality have always been a constant in our company.
In our two sites in Genk and Weert we produce on average 250.000 m² of parquet per year.
Via our Belgian wholesale Holz Bois and our Dutch wholesale Albers we sell to professional fitters and carpenters. Furthermore our export to various European countries has been growing in recent years.
Habo has a stock of wood that covers about a year's production and a stock of parquet floors of 4 to 6 months. These large stocks are essential to offer our professional clients a fast and flexible service.
Our continuous investments in modern and high-performance machinery and our compliance with the strict classifications contribute to Habo's good reputation in the Benelux.
Together with our wholesalers Albers and Holz Bois we make up a close working team of 40 motivated and loyal employees.
Bosdel 41, 3600 Genk
+32 (0)89 62 32 60
www.habo.be
info@habo.be