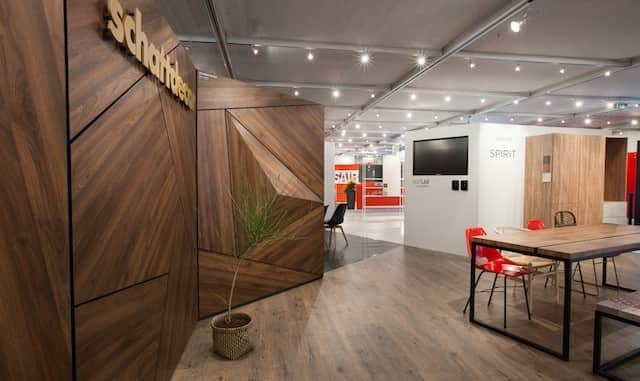 The focus is shifting back to staging a precious piece, and Italy is going back to its roots.  Consequently, the Schattdecor booth featured the 15/16 trends and was tailor-made to the requirements of the Italian market.
There were three trend topics that were presented – Casual Black, Freestyle Clarity and CULTURAL SPIRIT. Commenting on the enormous feedback received on the trend topic Cultural Spirit Michela Avancini, Head of Design at Schattdecor Italy, explains: "Values are regaining importance and Italy is returning to its roots and its tradition." Nut decors in warm shades are in high demand and symbolize the sustainability of inherited stand-alone pieces of furniture.
According to Head of Sales Franco Lozza, also in southern Europe the focus is increasingly on the quality of the decors. "There is great demand for surfaces and new developments that set the ideal scene for the decor and enhance its haptic properties. An authentic overall picture is becoming ever more important!" The most sought after decor at the Sicam was Riviera Oak. With its warm honey tones and its Smartfoil Evo surface it confirmed the positive international feedback it already got at the Interzum. Further highlights were Noce Perenne in light and dark colors and the stone decor Paladina. In total, more than 17 thousand visitors from 96 different countries visited the industry fair in Pordenone, with visitors from abroad making up for35 percent.
Trend topic Cultural Spirit
With its warm shades of honey and its natural-looking wood structures, this trend is in line with the current Zeitgeist in southern Europe. The wood structures are more delicate and less rustic than in the past. There is a high demand for veneer-like wooden surfaces with a natural appearance. Decorations in CULTURAL SPIRIT place their focus on cultural artefacts from various sources, creating a feeling of individuality and personality. Apart from the Interzum decor highlights, the Sicam trade fair showcased new developments for this trend topic and managed to reconfirm the claims of the trends of 15/16.
360 ° Lab by Schattdecor
Schattdecor's product configurator is a sales tool, which enables customers to see the whole range of themes and decors in a virtual setting of a modern loft. This space can be decorated according to the precise wishes of the customer. "Our 360 ° Lab is an important tool for customers during the decision making process," says Franco Lozza. The product configurator developers are currently working on virtual shop scenes as well as a caravan interior. Once these have been added by the end of the year the product configurator will be distributed throughout the Schattdecor group. The Schattdecor booth at the Sicam featured a live view.