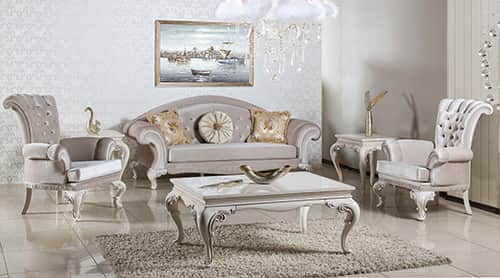 MK KARAKÖSE FURNITURE, founded in 1971 on furniture production, started selling retail furniture at the beginning of 1991.
With a half-century success story and years of experience, it is one of the leading organizations in the furniture industry.
MK KARAKÖSE is one of the leaders in handmade, original designs, quality understanding and innovative approach.
The primary goal of MK KARAKÖSE FURNITURE is customer satisfaction.
MK KARAKÖSE FURNITURE has a timely and fast operation.
Each product produced for MK KARAKÖSE FURNITURE produces a new work, a new art with baccarat and love.
MK KARAKÖSE FURNITURE always takes longer hours of work with the arge department with better understanding.
MK KARAKÖSE FURNITURE has become a brand that is followed by its competitors.
Our goal is to move our brand value to the highest level in our country by following unconditional customer satisfaction at every stage until production and after shipment and by acting on behalf of the customer with analytical ideas and solutions beyond known methods.
Our originally designed products are produced with high production technology and high-level workmanship philosophy as principle.
It is the mission of our company to manufacture and sell the furniture with different designs for the living areas with high quality ..
Karpuzlu 2. Cadde No:117 Siteler, Ankara, Türkiye
+90 312 348 30 20 –
+90 312 348 59 34 –
info@mkkarakosemobilya.com
www.mkkarakosemobilya.com